Seminole Wars Historians and Authors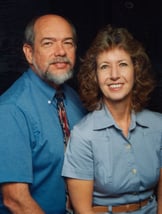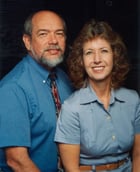 John & Mary Lou's Other Books
All of our books are available on Amazon.com.
For signed, personalized copies, please send us an e-mail at info@missall.net
Just Havin' Fun: Adventures of an Oil Well Firefighter
with Boots Hansen
Just Havin' Fun: Adventures of an Oil Well Firefighter The story of legendary firefighter Boots Hansen. From his early days as a pioneer in the industry, until his work extinguishing hundreds of oil well fires set by the Iraqis at the end of the First Gulf War, Boots Hansen has been one of the leaders in this exciting and dangerous business. A man of many adventures, Boots served on submarines in WWII, drove race cars and speed boats, and served as technical consultant for the John Wayne movie "Hellfighters," a film based on the exploits of Boots, his partner Coots Matthews, and Red Adair.
From Bodkin Books, 2019
Softcover, 272 pages, $19.95
ISBN # 9781078158398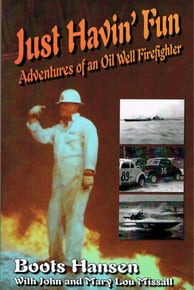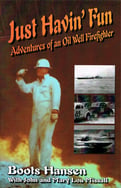 Dear Pik: Letters from a Stellar Explorer
By John Missall
Gifted Photomass Engineer Asgar Kazmian needs to get away. After the loss of his wife and young son in an earthquake, the home planet no longer feels like home. Packing a few mementoes in a travel bag, he emigrates to space, hoping to build a new life among the hundreds of millions of people who are spreading across the galaxy. What he doesn't know is that someone has her eye on him. There's been an unexplained death on the research and rescue vessel Watson, and Asgar might be one of the few people capable of solving the mystery. Enticed to join Watson's crew, he soon finds himself facing more than technical problems. In a series of letters to a badly injured child on Earth, he tells of desperate rescues, exciting new worlds, and confrontations with murderers and rogue scientists. All this while learning to navigate a new culture that has evolved to exist in an environment that is both deadly and unforgiving. In the process, he must confront his own responsibility for the death of his family and discover the true meaning of life and of right and wrong.
From Bodkin Books, 2020
Paperback, 338 pages, $19.95
ISBN 9798573911144